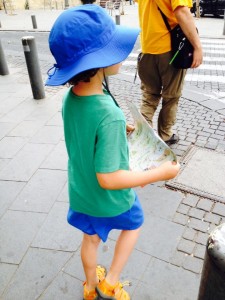 Hugs hurt.
At her sickest, even a gentle brush against her skin was painful for Kiersten Hathaway of Panora.
A married mother of two children, ages 9 and 6, she was used to regularly embracing her offspring. She would get on the floor and play with them.
But she was suffering from the long-term effects of Lyme disease. She was sleepless and anxious. She felt sullen and withdrawn. Her muscles burned and ached.
"There were times when I thought I was going crazy," Kiersten said.
Kiersten contracted Lyme disease in fall 2013. She got a rash, but it didn't match the telltale red bull's-eye associated with Lyme disease. She didn't get it checked out. That turned out to be a painful decision.
Lyme disease is an illness transmitted by ticks in wooded areas or tall grass.
The Iowa Department of Public Health received reports of 247 cases of Lyme disease in 2013 — the year Kiersten was infected — the most since the state started tracking the disease in 2002.
If caught early, a round of antibiotics usually does the trick. But untreated, the long-term effects can be devastating.
Lyme disease ravaged Kiersten, 39, who grew up in Des Moines and graduated from Lincoln High School in 1993. Regular readers might remember Kiersten from a story I wrote a year ago about her plight.
Kiersten was a marathon runner. She was all lean, sinewy muscle — the kind of fit one sees on health magazine covers. She was an elite athlete her whole life. She's completed four Ironman triathlons. She finished eighth in the Des Moines Marathon in 2013.
But when Lyme disease symptoms were at their worst in early 2014, she could barely walk. Kiersten endured a stream of fruitless tests. She found a Lyme disease forum online. It perfectly described her symptoms.
"One of the posts said you have to put in a lot of returns because people who are suffering from this can't concentrate on big paragraphs," Kiersten said. "That's when I knew I was in the right place. I love to read and I hadn't been able to focus."
She finally sent a blood test to a lab in California. The tests came back positive for Lyme disease. The results met the Centers for Disease Control and Prevention standards for diagnosis.
Kiersten couldn't find a doctor in Iowa who could help her. She finally found a doctor in Columbia, Mo., who treated the disease with high doses of antibiotics over an extended period.
Other doctors warned Kiersten the treatment was controversial and dangerous. Long-term, high-dose antibiotic therapy can lead to liver damage and cause heart and lung problems.
The CDC says "studies have not shown that patients who received prolonged courses of antibiotics do better in the long run than patients treated with placebo."
Kiersten wagered the reward outweighed the risk.
When I wrote about Kiersten last year, I asked Daniel Gervich, an infectious disease specialist for Mercy Medical Center in Des Moines, about the treatment Kiersten was seeking.
Gervich was wary. He said Lyme disease is often misdiagnosed for patients whose symptoms don't offer an easy diagnosis.
"The truth that is hard for some patients to accept is that medical science does not always have all the answers," Gervich said at the time. "That leaves people in an extremely difficult situation, understandably so. Many times we are able to rule something out, but not immediately define what it is."
Kiersten knew all this. But she went ahead. She wanted to play with her kids. She wanted to be active and healthy again. She wanted to run.
She took the antibiotics and changed her diet. She cut gluten and solanine, a toxin found in species of the nightshade family, including potatoes, tomatoes, sweet and hot peppers, eggplant and paprika.
"I'd never even heard of nightshades and now I was checking the label of everything that came into the house to make sure they weren't there," Kiersten said.
It worked. Whether it was the antibiotics or the diet changes or simply the disease passing from her system, who can say?
It was about a year ago when Kiersten return to the trails. She made it about 2 miles, a paltry tally for an accomplished marathoner. She was tired, sweaty and sore. She struggled to breathe.
And she felt wonderful.
"In the darkest moments, I thought the worst could happen," Kiersten said. "I thought this might break me. I didn't know if I would ever be able to run again or be the person I was."
She runs regularly now. She's training for marathons again. She hopes to run a ultramarathon — longer than the 26.2 miles of a regular marathon.
She wants to raise awareness of Lyme disease and the pain and suffering it can cause when untreated.
Kiersten isn't back to her old self yet. She figures she's about 85 percent of where she was before Lyme disease.
But the worst of her symptoms are gone.
And that means hugs are back in fashion in the Hathaway household.